Baseball has been present in Ashe County for well over 100 years, typically as an informal weekend pastime. In the years before World War Two, local teams were meeting weekly for matchups on makeshift diamonds around Ashe County. Although these teams had at one point been part of a formal league, they had been playing for years in a more haphazard fashion. At the time, baseball teams were assembled by any community with sufficient players to form a lineup. In 1935, teams like the Dog Creek Bulldogs faced off against the Pond Mountain Foxhunters and the Teaberry Wildcats. At the time, these games were largely exhibitional. Although they attracted spectators and were occasionally mentioned in the newspaper, teams from this era were not part of a formal league, and often played the same few local opponents over and over. On at least on occasion the local prison camp formed a team to play a single game against young players from the Othello community.
However, by 1938, the need for more organized play in the county led to the formation of an official league of local teams. The Junior League was formed by the American Legion Post, and was managed by Ed Barr. The league was formed with the support of Ashe County's high school principals, and was targeted at teenage players. The league was only open to players younger than 17. Each team was formed by a local community, which was responsible for providing $12.50 for equipment. The league would match the $12.50 and also provide each team with a baseball per week for games. The communities of Nathan's Creek, West Jefferson, Virginia-Carolina, Jefferson, Helton, Healing Springs, Peak Creek, and Lansing all formed teams and began competing using a weekly schedule. Because teams in this new league played each other in an ordered rotation, it became possible to compare teams based on their records and chart their standings in the league. The season then culminated in a final series to determine a countywide champion; something that had not been possible using the loosely arranged schedule of the few community teams playing prior to 1938.
During this time, players older than 17 continued to play on community teams made up of adults; however, because these adult teams were not part of a formal league, they continued to play other teams based more on convenience than any prearranged schedule. The search for new opponents led them to play away from the local community. Teams from Whitetop and Damascus were often played. In 1939, a team from Scottville defeated Mt. Airy in a game in which Scottville's pitcher, Paul Perkins, struck out 18 opposing players and allowed only 3 hits.
By the early 1940s, the Junior League had ceased to exist. However, the value of scheduled league play had become popular and soon began to affect the organization of Ashe County's adult baseball teams. In April of 1941, West Jefferson assembled a team of local all stars, led by Paul Perkins that joined the semi-professional New River League, which consisted of teams from Ivanhoe, Fries, Galax, Austinville, Sparta, and Independence . This original West Jefferson team was officially rostered with Paul Perkins, Ray Blevins, Bower Severt, Peck Davis, Freel Jones, Roland Koontz, Bailey Barker, Charlie Davis, Dr. J.K. Hunter, Howard Day, Vernon Thompson, Fairfax Jones, Roy Freeman, Ed Woodie, Burman Bare, Tam McMillian, Tommy Williams, Charlie Weaver, Harry Koontz, Don Francis, Bill Hughes, Warren Farmer, Jack Richardson, Jake Faw, James Eller, Earl Lewis, Bare Sheets, Junior Atwood, Dean Andrews, Frank McMillian, and former professional pitcher Monte Weaver, whose career had ended with the Boston Red Sox in 1939.
West Jefferson was competitive in the New River League, which was dominated by the Fries Weavers, a team of millworkers from Virginia. Although they looked forward to continuing to improve in subsequent seasons, the outbreak of World War Two put a temporary end to all baseball in Ashe County from 1942 until 1946. However, in 1946, baseball in Ashe County reached its historical apex.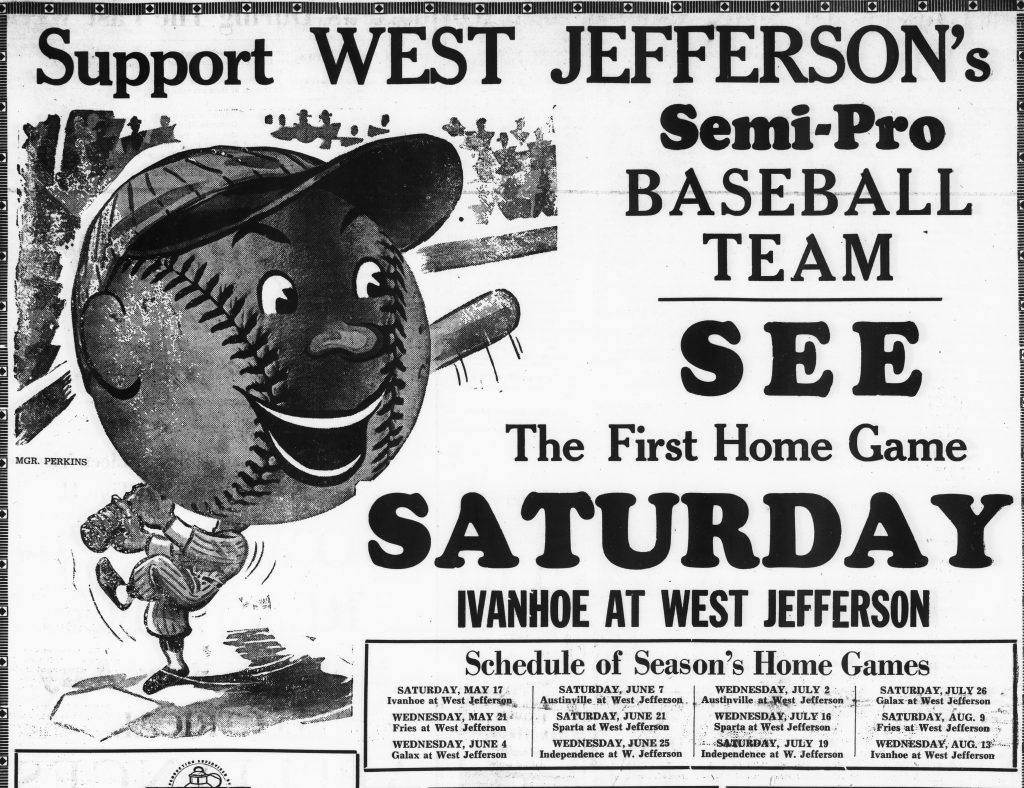 The year following the end of the war saw Ashe County form the first countywide formal league since the early 1930s. The Mountain League was made up of teams from Nathan's Creek, Lansing, Roan Creek, West Jefferson, Laurel Springs, Scottville, Pond Mountain and Sparta. As with the American Legion Junior League, each team had a field located in their community and would rotate play, playing home and away games each Saturday and Sunday afternoon. Fans followed their community team through the season, which culminated in a championship series in August.
In 1946, the championship series was played each weekend between August and October. All eight teams began the series, and teams were eliminated each weekend until the final game on October 5th. In the inaugural year, Scottville was the county champion.
The league proved very popular and was reformed in 1947. Roan Creek, Sparta, Pond Mountain, and Nathan's Creek were unable to form teams, but teams from East Jefferson and x Dog Creek were created to replace them. The 1947 season seems to have been especially popular. Updates about games were frequently featured on the front page of the Skyland Post and the championship series, which featured a multi-week competition between Lansing and West Jefferson, attracted over 1,000 spectators to the games. West Jefferson dominated the series, but had one victory protested because of an ineligible player. Despite this setback, West Jefferson went on to win the countywide championship on October 25th.
West Jefferson's victory must have instilled a sense of confidence into the team, because in 1948 they left the Mountain League to begin playing more elite teams. Because they were no longer affiliated with a league, playing "independent ball," West Jefferson could choose their opponents. Over the course of the season, West Jefferson competed against teams from Boone, Blowing Rock, Damascus, Advance and Newland, as well as occasional games against local teams like Lansing.
Meanwhile, the Mountain League was still going strong, despite the absence of West Jefferson. Teams from Helton and Grassy Creek joined the league and Nathan's Creek once again fielded a team. As in 1947, the league attracted much local attention. They scheduled a July 4th celebration with three back to back games, and the fall series was again very popular. On Sunday, September 19th, the season ended as Helton defeated Scottville for the county championship.
1949 followed a similar pattern to 1948. West Jefferson continued to play independently, and sought out even more challenging opponents, like Granite Falls and Lenoir. They also scheduled competitions against the Boone All-Stars, made up of the best players from Watagua's countywide league, and the Mountain League All-Stars, made up of the best players from the community teams in Ashe County. As West Jefferson continued to find exciting opponents unconstrained by an organized league, the Mountain League seems to have suffered a drop in popularity. West Jefferson had begun recruiting college players from Boone to expand the team's abilities, and the influx of outside talent seems to have demoralized some local players. Although teams from the league, like Scottville, occasionally played West Jefferson in exhibition games, there seems to have been no formal league play during the year.
1950 saw the final fracturing of Ashe County baseball. The Mountain League was able to field teams for a final season, including new teams from Smethport, Stratford and Piney Creek; however, they lost both the Helton and Lansing teams, which combined to form a joint team following West Jefferson's model of independent play. Lansing – Helton's new team included West Jefferson's former pitcher and team leader Ray Blevins, along with Bud Kirby, Frank Roland, Dee Sullivan, George Waddell, Melda Poe, Red Davis, Dale Sexton. Bernard Childers, Bill Jones, Paul Key, Kenneth Sexton, Guy Spencer, Buddy Kirby, Ezzell Stansberry, Welch DeBord and Lonnie Blevins.
Interestingly, as Lansing-Helton followed West Jefferson's independent model, West Jefferson once again joined a formal league: the Skyline League, which featured teams from Sparta, Independence, Galax, Boone, and Bamboo.
Ashe County, now home to three different baseball organizations, the Skyline League, the Mountain League, and the independent schedule of Lansing-Helton, struggled to maintain the focused attention of the county. For example, Lansing-Helton tried to encourage attendance by holding a box dinner in the Lansing gym following one of their games. Scores were not frequently reported to the paper, and the front page no longer featured constant updates about county baseball games.
By 1951, organized, adult baseball in Ashe County finally came to an end. What had been a spectator sport in the 1930s and 1940s quickly morphed into a recreational pastime for people looking for a hobby in the summer. In 1951, the American Legion formed a league of softball teams sponsored by local businesses, a model still found in the county today. Men who were just a few years prior playing semi-professional baseball, were now slow pitching softballs for fun on teams sponsored by the Rotary Club and the Jefferson Sales Company. Also, for the first time in county history, women were able to participate, as both Blackburn's and Belk's department stores sponsored two all female teams.
Today, recreational softball and little league baseball has become the norm all over America. Although ballparks in the county still feature balls and strikes, bats and gloves, and are regularly attended, the players participate now more for their health than for their reputation and the crowds attend to support friends and family members rather than to cheer on their local communities. The network of homemade fields, constructed in cornfields and pastures, that once connected a countywide fanbase are plowed under and forgotten. Baseball has never left Ashe County, but it will never be the same.